Rice Pudding Poetry
Rice Pudding Poetry Podcast is Back!
Listen on Podbean or Spotify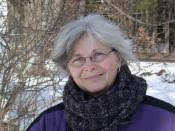 This year's Rice Pudding Poetry Podcast, featuring L.R. Berger, continues December 16 with a show that illumines "the sacred in the ordinary" through poetry and music. L.R. is the recipient of fellowships and awards from the National Endowment for the Arts, the PEN New England Discovery Award, the NH State Council on the Arts, The MacDowell Colony, Hedgebrook, the Blue Mountain Center, and Wellspring, and a Visiting Artist at The American Academy in Rome. Her collection of poems, "The Unexpected Aviary," received the Jane Kenyon Award for Outstanding Book of Poetry. L.R's newest collection, called Indebted to Wind, was published in August by Deerbrook Editions.
L.R. also received a grant from NH Audubon and the Blue Mountain Center to research, write and live at Rachel Carson's home in Southport, Maine, which inspired poems and an essay on Carson for the eco-philosophical primer, "In Praise of Nature." For 15 years L.R. taught creative writing at the University of Massachusetts in Boston. With the late Palestinian artist and writer, Kamal Boullatta, she assisted in the translation from the Arabic of "Beginnings," by the poet Adonis (Pyramid Atlantic Press).
L.R. is joined by musician Jon Prichard, who plays Native American Flute for this show. Our Community Readers always round out the show. Elizabeth Antalek, David Phreaner, Mimi White, and Cathy Wolff will offer poems they have selected for the theme. Listen to this and every episode on Podbean and Spotify!
---